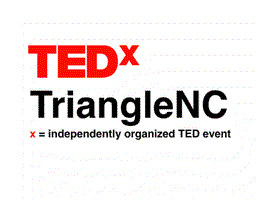 Tomorrow, I'm heading to TEDxTriangleNC, which is a smaller version of the TED talks.
TEDxTriangleNC is…
…organized by a group of independent people who have come together because they believe in helping spread great ideas and they know there is no better place to do this than in the Triangle.
It's being held at Research Triangle Headquarters, which means it's only a few minutes from my house. This is too good an opportunity to pass up, and I'm so happy that being on the wait-list for tickets worked out. Unfortunately my buddy from work was not able to make it, and had to give up his ticket as well. There were a bunch of us who were looking forward to going, but i think out of our small circle of friends I'm the only one actually attending. It's scheduled for 10am-6pm, so it's going to be a long day, but i'm hoping it's as rewarding as i envision the TED talks being. All of the presentations can be found on the site linked above under the 'Speakers' page. The particular one's I'm looking forward to are: (all descriptions are from the event website)
Catherine Cadden –
Catherine believes that children who have the opportunity to practice peace in the classroom will effect the change we need to create a peaceful society. As an educator since 1987, she worked in U.S. public schools, Montessori, and Waldorf classrooms, witnessing firsthand the devastating effects of the educational system, both mainstream and 'alternative': racism, materialism, class-ism, apathy, alienation, and violence. In 1997, Catherine walked out of the known systems of education. Inspired by the work of Mahatma Gandhi and Dr. Martin Luther King, Jr., she opened the doors of TEMBA, a K–8 academic school founded on empathy, self-responsibility, and the tenets of nonviolence. To address everyday challenges, she sought advice directly from expert peacemakers: H.H. the Dalai Lama, Jack Kornfield, Marshall Rosenberg, and others. Catherine's "peaceable revolution" didn't stop at the classroom. In 2007, she led a grassroots project to bring Nonviolent Communication training and gifts from TEMBA students to sixty-four men, women, and children in Afghanistan. Deeply affected by the grief she witnessed while in Afghanistan and the power of empathy to offer healing, Catherine co-organized the first International Day for Empathic Action on October 2nd, 2009, sparking hundreds of events in eleven countries across six continents, including a twenty-four-hour global empathy hotline in four languages. Today, Catherine is putting the inspiration and practical knowledge for creating a safer, more joyful, and peaceful society into the hands of people worldwide through speaking engagements; workshops; her book, Peaceable Revolution Through Education; and taking people on wilderness initiations into nonviolence through her organization Play in the Wild!©.
Andy Hunt –
Andy Hunt is a programmer turned consultant, author and publisher. He authored the best-selling book "The Pragmatic Programmer" and six others, was one of the 17 founders of the Agile Alliance, and co-founded the Pragmatic Bookshelf, publishing award-winning and critically acclaimed books for software developers.
Sam Krishna –
Sam is the Chief Problem-Solving Officer of SectorMobile, an iPhone, iPad and Macintosh software development company. He has worked with Apple and web technologies for the last 12 years (including a stint at the mothership) and has managed both RTP and Silicon Valley startup engineering teams. He is currently researching the application of personal transformation technologies into the science, technology, engineering, and mathematics (STEM) disciplines in such a way that non-linear STEM-based personal learning, research and development breakthroughs can occur rapidly without years of pre-existing formal training. He is continuing his on-going research into Artificial Creativity and Knowledge Dynamics. His passions lie in the areas of technology, psychology, theology, and democracy.
Ilina Ewen –
Ilina is known as Mommy to two sons and a host of sappy nicknames by one husband. She's an Audrey Hepburn fan, shoe aficionada, blogger, marketer extraordinaire, and food fanatic. She is a seasoned marketer with over 18 years of consumer research, marketing, communications, and advertising experience and has her own consulting business called iFactor. When not tweeting from the carpool line, reading cookbooks, or writing creative briefs, you'll find Ilina in the kitchen. She has a voracious appetite for all things food related and thrives on finding economical, healthy, sustainable, and tasty ways to feed her family. She believes that food is a teaching tool, an experience, and a passport to other cultures, and the stuff that family memories are made of. Food is so much more than sustenance. Her biggest accomplishment is that her 6 and 4 year old sons ask for Manchego and apples for an after school snack and will choose mussels over meatballs in any Italian restaurant. She blogs at Dirt & Noise, Foodie Mama, Deep South Moms, Triangle Mamas, and WRAL's Go Ask Mom.
There are other talks I am looking forward to, but these are the ones that pique my interest immediately.
What I'm hoping to get out of these talks are new ideas, or different ways of looking at the same issues. I'm hoping to be inspired to be active, rather than it just being a presentation on inspiration. More than anything, I hope that this regional, smaller-scale TED experience is akin to the TED talks I enjoy watching so much online.
So…that's it. I hope that by tomorrow night i have a great experience to blog about. I'm hoping they have wifi there too so i can do a little tweeting from my iPod Touch during the day (no iPhone for me….sniff).