I'm at TEDxTriangleNC: http://www.tedxtrianglenc.com/
Started off with a really good, inspiring introduction by [guy from RTP headquarters]. Then our funny emcee @ZachWard from the DSI Improv comedy group got things started with a Wave. Not a Google Wave, but an actual wave where people stood up. Pretty funny guy…..i figure that if i could somehow convince him to emcee my daily life, then things would be a whole lot funnier.
First up Christopher Gergen from Duke University's entrepreneur program gave an awesome presentation about innovation, achieving goals, reaching out into new areas. My take away was "shift your fear of failure to a fear of regret" — their research said that people who were able to do this, were more likely to take action and keep working on their goals. I really enjoyed this presentation, and it was a great one to start the day.
Andy Hunt, one of the presentations I was most looking forward to was really good too, but too short on time. He talked about the value of writing your ideas down, which actually is shown to increase the frequency (and quality?) of the ideas you have. Mindmapping was one of the ideas he spoke about, and I'd have to agree.
Phaedra Boinodiris talked about gaming, but not the way you're thinking about. Her presentation was about gaming being used for business purposes like technical training, marketing, and leadership skill building. At first i admit that i thought it was a pretty boring idea, or at least ill-conceived. I thought that these "business" people had a random thought one day and were like "hey…we can create a game that people can use to learn Human Resources policies!" — but then she showed us a couple of videos about how their games are being used in universities and real businesses, and my mind was changed. Think about it like it's a World of Warcraft environment, but for business objectives. Pretty cool stuff, and very interesting. NC State (and other schools) are using their games already, and have been for a while. IBM gives the software away for free to academic institutions.
Quite possibly the most surprising presentation so far, was not a presentation. It was the performance by 'New Music Raleigh' — a violin trio who played for about 10 minutes, and it was awesome. Here's my tweet about their performance: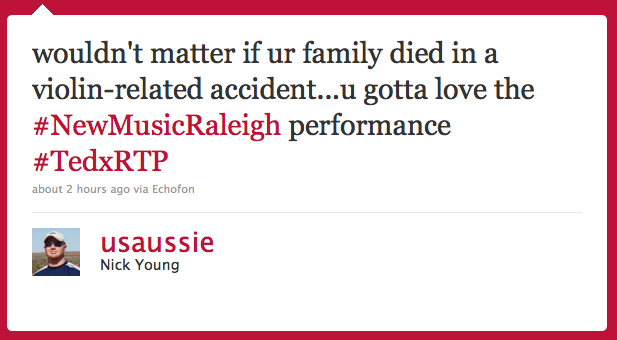 What followed were a series of inspirational presentations, and although i was left inspired, it was almost a little too much. I understand why they were grouped together, but you kind of get overwhelmed by them all as a block. Individually they were really good.
Hugh Hollowell from 'Love Wins Ministries" was very sincere, and very effective at getting his point across, which at it's root was a simple one: "relationships can solve the world's problems." He gave several examples, the one that stuck with me was that the US population throws away 40% of the food they buy from the grocery store, and yet 17,000,000 (yes…17 million) people go hungry each night in the USA. His point flowing from that statistic though, was that if you knew that a relative of yours (someone you have a personal relationship with) was going hungry, you wouldn't throw away that food. You'd figure out a way to get the food to them, or you'd make sure that person didn't go hungry. It's a simple point, but it's true. You wouldn't take a homeless person into your home if you had a spare bed, but if that homeless person was your mother/father/sister/brother…you would in an instant. Personal relationships would stop the problem of chronic homelessness. Definintely worth watching when the videos are posted.
Joel Wiggins gave an emotionally charged and very effective presentation about "where have all the men gone." This was about role models. Real men who's highest title or accolade would be being a good husband, father, brother, son. I can't condence his presentation here, but it's worth a watch if you're interested in the idea of the positive male influence that's gone missing for generations of people.
Thelma Horton's brief talk about love was okay. It was not as impressive as the other presenters, but you got her message, even if it was falling into the "overload" part of your brain as you were coming down from the high of the other talks.
Ilina Ewen was awesome in her presentation about food, and the importance of educating our kids about good food habits and choices. Her story about how she and her husband fondly recall a particular meal they had with tomatoes in Paris 15 years ago hit close to home for me. Melody and I still reminisce about a meal we had at a hole-in-the-wall Nepalese restaurant in Edinburgh 5 years ago. Good food sticks in your memory, even if it's a simple tomato or a full nepalese feast. Bad food sticks to your hips. Hrmm…maybe i should trademark that thought.
and just when i thought i couldn't be happier with the first half of the TEDx experience, they serve lunch from Whole foods. AWESOME cannot describe it. Vegan options all around, and it was delicious. I had vegan barbecue, coleslaw and a sweet potato, onion and spinach salad that was unbelieveable. Yes…sweet potato. Me. liking sweet potato. That should tell you all you need to know about how good it was.
And so now im writing this, getting ready for the next half of the TEDx talks. Tonight's blog will recap that, and then the overall experience…stay tuned.