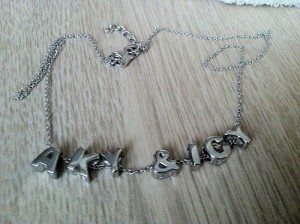 We have two new additions to the family…Ainsley Krause Young, and Isla Cameron Young.
Ainsley and Isla are just names we really liked (and we don't know anyone personally with those names)….but Krause is my maternal grandmother's maiden name, and Cameron is Melody's maternal grandmother's maiden name.
So…amongst other things, we can now release the pictures of the girls' room with the wordles Melody put together for them. They have the girls' names, mixed with lyrics from two of her favorite songs (Tupelo Honey and Sweetest Thing by JJ Grey & Mofro).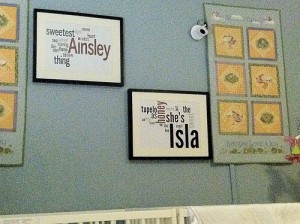 This is Ainsley Krause. She was born at 10:33am on September 16th. She weighed in at 5 pounds, 9 ounces and was 19 inches long, with a head measurement of 13 inches.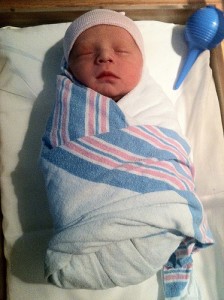 This is Isla Cameron. She's a little smaller, being born at 10:47am, weighing in at 4 pounds 15 ounces. She measured 18 inches long, 12.5 inches for her head.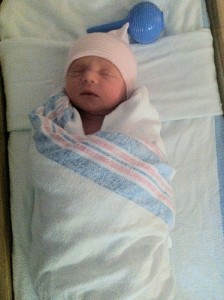 Melody was wonder-woman as usual, choosing not to go the C-Section route, and was able to successfully deliver both babies. Ainsley required a little suction, so she's dealing with a little head bruising right now. But she'll be okay very soon.
Melody had a little bit of a scare after both babies came out (and were whisked away very quickly before we could really look at them), as she lost 4.3 litres of blood…which, if you're wondering….is not a good thing. I had to keep her awake so she wouldn't pass out while the doctors worked their magic to keep her with us. It was all very dramatic, but i just remember trusting the doctors completely and not really getting freaked out. Looking back, I should have been a LOT more freaked out, as Melody really was crashing pretty quickly. I think her blood pressure dropped down to something like a 20 for a while there.
Both babies are healthy, although Ainsley needs a little help from the light machine (risk of jaundice…billyrubin levels aren't what they need to be).
So…we have our babies, I have my melody…and we're ecstatic (and tired already)….but it's all worth it of course.
I'll be posting more details over on www.spawnwatch.com for those interested