today went by in a blur. Not sure really what happened. I know we have babies now… and they require a lot of energy. Who knew!
This is the only picture I took all day: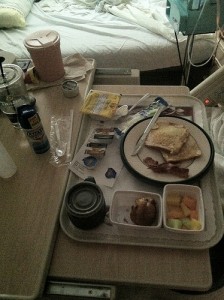 It was of the breakfast tray they brought for Melody. She didn't like it all that much, so i devoured her left over french toast and bacon with delight.
And another telling factor of how busy and tired we are……we haven't even turned a TV on since the babies were born…not even in our down time while the babies are away in the nursery being tested.